Explore cookbooks and more from libraries around the world.
Search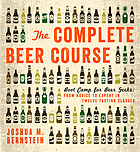 The complete beer course : boot camp for beer geeks, from novice to expert in twelve tasting classes
Date: 2013
Book
summary

Go on a fun, flavorful tour through the world of craft beers. Bernstein demystifies beer, and teaches you to choose from and enjoy the vast array of singular brews available today.
Genres, Characters, Subjects & More
Classes
641.23 Brewed and malted beverages
Editions
| Cover | Edition Details | Date | Lang. | Format | Audience | eLibs | Libs |
| --- | --- | --- | --- | --- | --- | --- | --- |