Explore cookbooks and more from libraries around the world.
Search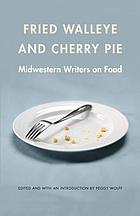 Fried walleye & cherry pie : midwestern writers on food
Date: 2013
Book
summary

With its corn by the acre, beef on the hoof, Quaker Oats, and Kraft Mac n' Cheese, the Midwest eats pretty well and feeds the nation on the side. But there's more to the midwestern kitchen and palate than the farm food and sizable portions the region is best known for beyond its borders. It is to these heartland specialties, from the heartwarming to the downright weird, that Fried Walleye and Cherry Pie invites the reader. The volume brings to the table an illustrious gathering of thirty midwestern writers with something to say about the gustatory pleasures and peculiarities of the region.
Genres, Characters, Subjects & More
Editions
| Cover | Edition Details | Date | Lang. | Format | Audience | eLibs | Libs |
| --- | --- | --- | --- | --- | --- | --- | --- |