Explore cookbooks and more from libraries around the world.
Search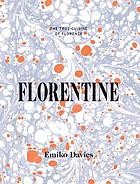 Florentine : the true cuisine of Florence
Date: 2016 - 2021
Book
summary

Through her recipes, Emiko Davies takes us on a stroll through the streets of Florence, past bakeries and pastry shops bustling with espresso sippers, colourful markets, busy trattorias, butchers, hole-in-the wall wine bars and late-night gelaterias. She stays true to the most classic recipes and traditions of the Renaissance city - which inspired her to start her eponymous blog five years ago while living in Florence - revealing an unpretentious and unchanging cuisine that tells the unique story of its city, dish by dish. -- back cover.
Genres, Characters, Subjects & More
Editions
| Cover | Edition Details | Date | Lang. | Format | Audience | eLibs | Libs |
| --- | --- | --- | --- | --- | --- | --- | --- |