Explore cookbooks and more from libraries around the world.
Search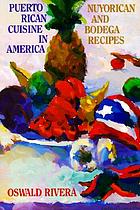 Puerto Rican cuisine in America : Nuyorican and Bodega recipes
Date: 1993 - 2015
Book
summary

Puerto Rican cuisine, with its strong Spanish and African influences, holds a unique position in the world of Caribbean cooking. The food is spicy, hearty, healthy, sensuous, and adventurous. These 240-plus recipes range from traditional island dishes and drinks to the latest Nuyorican creations. Illustrations.
Genres, Characters, Subjects & More
Editions
| Cover | Edition Details | Date | Lang. | Format | Audience | eLibs | Libs |
| --- | --- | --- | --- | --- | --- | --- | --- |