Explore cookbooks and more from libraries around the world.
Search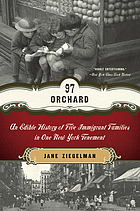 97 Orchard : an edible history of five immigrant families in one New York tenement
Date: 2010 - 2012
Book
summary

"In 97 Orchard, Jane Ziegelman explores the culinary life that was the heart and soul of New York's Lower East Side around the turn of the twentieth century- a city within a city, where Germans, Irish, Italians, and Eastern European Jews attempted to forge a new life. Through the experiences of five families, all of them residents of 97 Orchard Street, she takes readers on a vivid and unforgettable tour, from impossibly cramped tenement apartments down dimly lit stairwells where children played and neighbors socialized, beyond the front stoops where immigrant housewives found respite and company, and out into the hubbub of the dirty, teeming streets"--Page 2 of cover.
Genres, Characters, Subjects & More
Editions
| Cover | Edition Details | Date | Lang. | Format | Audience | eLibs | Libs |
| --- | --- | --- | --- | --- | --- | --- | --- |