Explore cookbooks and more from libraries around the world.
Search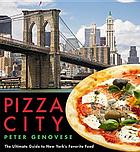 Pizza city : the ultimate guide to New York's favorite food
Date: 2013
Book
summary

Journalist Peter Genovese surveys the food, the business, and the culture of New York City's pizza scene by visiting 250 pizzerias in all five boroughs. He provides borough-by-borough reviews, from "slice shops" with scant atmosphere to gourmet pizzerias, including shops that use organic ingredients and experiment with a variety of crusts and toppings. Hundreds of current and never-before-seen archival photos complement this funny and fascinating book.
Genres, Characters, Subjects & More
Editions
| Cover | Edition Details | Date | Lang. | Format | Audience | eLibs | Libs |
| --- | --- | --- | --- | --- | --- | --- | --- |