Explore cookbooks and more from libraries around the world.
Search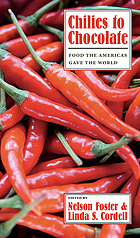 Chilies to chocolate : food the Americas gave the world
Date: 1992 - 2006
Book
summary

Cob is sweeter for knowing the long, winding way by which it has come into one's hands," observe Foster and Cordell. Featuring contributions by Gary Nabhan, Alan Davidson, and others, Chilies to Chocolate will increase readers' appreciation of the foods we all enjoy, of the circuitous routes by which they have become part of our diets, and of the vital role that Native Americans have played in this process.
Genres, Characters, Subjects & More
Editions
| Cover | Edition Details | Date | Lang. | Format | Audience | eLibs | Libs |
| --- | --- | --- | --- | --- | --- | --- | --- |