Explore cookbooks and more from libraries around the world.
Search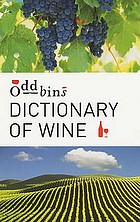 Oddbins dictionary of wine
Date: 2004
Book
summary

Oddbins Dictionary of Wine, published by Bloomsbury in partnership with one of the UK's pre-eminent high-street wine retailers, is an essential reference for anyone who wants to know more about the language of wine. It covers the terms used in wine production, and describes grape varieties, wine regions and wine-growers around the world, wine styles and tasting terms. And because wine-producing is a science as well as a craft, it explains the basic chemistry that can make or mar a great wine. Accessible and comprehensive, Oddbins Dictionary of Wine is ideal for everyone who enjoys wine and wants to understand it better.
Genres, Characters, Subjects & More
Editions
| Cover | Edition Details | Date | Lang. | Format | Audience | eLibs | Libs |
| --- | --- | --- | --- | --- | --- | --- | --- |