Explore cookbooks and more from libraries around the world.
Search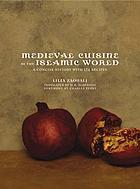 Medieval cuisine of the Islamic world : a concise history with 174 recipes
Date: 2004 - 2018
Book
summary

Vinegar and sugar, dried fruit, rose water, spices from India and China, sweet wine made from raisins and dates-these are the flavors of the golden age of Arab cuisine. This book, a delightful culinary adventure that is part history and part cookbook, surveys the gastronomical art that developed at the Caliph's sumptuous palaces in ninth-and tenth-century Baghdad, drew inspiration from Persian, Greco-Roman, and Turkish cooking, and rapidly spread across the Mediterranean. In a charming narrative, Lilia Zaouali brings to life Islam's vibrant culinary heritage. The second half of the book gather.
Genres, Characters, Subjects & More
Editions
| Cover | Edition Details | Date | Lang. | Format | Audience | eLibs | Libs |
| --- | --- | --- | --- | --- | --- | --- | --- |