Explore cookbooks and more from libraries around the world.
Search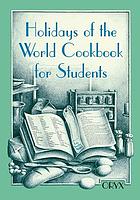 Holidays of the world cookbook for students
Date: 1995 - 2011
Book
summary

A collection of 388 recipes from more than 136 countries plus an introduction describing local holidays, customs, and foods that are part of the holiday tradition in each country. What better way to introduce young people to different countries and cultures than to study how others celebrate their holidays? Over 350 proven recipes have been assembled by Lois Sinaiko Webb, coauthor of the bestselling Multicultural Cookbook for Students. Whether young people are researching holiday customs and foods or planning to prepare the meals described in the book, they will find all of the recipes especially adapted for preparation by student chefs. Recommended for grades 4-12.
Genres, Characters, Subjects & More
Editions
| Cover | Edition Details | Date | Lang. | Format | Audience | eLibs | Libs |
| --- | --- | --- | --- | --- | --- | --- | --- |