Explore cookbooks and more from libraries around the world.
Search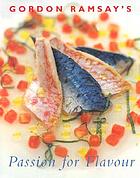 Gordon Ramsay's passion for flavour
Date: 1996 - 2007
Book
summary

Look at the images, read the recipes, and just imagine their incredible, mouthwatering taste. These 100 dishes from hot chef Gordon Ramsay radiate an ethereal lightness and outstanding intensity of flavor. Using only the freshest ingredients, minimal butter, and the cleanest, deepest stocks as a base, he conjures up sublime food that never fails to excite the palate. Best of all, Ramsay has adapted many of his most renowned recipes for the domestic kitchen -- including Cappuccino of Roasted Langoustine and Lentils, Tortellini of Ratatouille with Sauce Gazpacho, and Crème Brulée with Roasted Rhubarb. All the essential techniques are beautifully explained, and the on-the-page menu includes soups, starters, pastas and risottos, vegetables, fish and seafood, meat, game and poultry, desserts, and ice creams and sorbets. - Publisher.
Genres, Characters, Subjects & More
Editions
| Cover | Edition Details | Date | Lang. | Format | Audience | eLibs | Libs |
| --- | --- | --- | --- | --- | --- | --- | --- |