Explore cookbooks and more from libraries around the world.
Search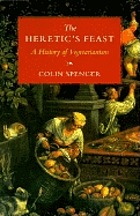 The heretic's feast : a history of vegetarianism
Date: 1993 - 1996
Book
summary

"Author, playwright, and food columnist for the English newspaper The Guardian, Spencer here traces the religious, health, and social influences behind vegetarianism from prehistory to the present. The result is a fascinating study of one of humanity's oldest and most maligned eating habits. One of the more interesting questions Spencer addresses is why vegetarians have been the victims of harassment and even persecution by the mainstream culture throughout history. He explains that, for better or worse, vegetarianism has been linked to radical social, political, and religious reformists who have challenged the mostly carnivorous status quo. Although vegetarianism belongs much more within the cultural heritage of the East, Spencer confines his study to the West, with occasional forays to India and the Far East. Keeping in mind this Western, indeed, Anglo-specific point of view, this book is recommended for academic and larger public libraries and wherever the subject is of interest.'--Publisher's description.
Genres, Characters, Subjects & More
Editions
| Cover | Edition Details | Date | Lang. | Format | Audience | eLibs | Libs |
| --- | --- | --- | --- | --- | --- | --- | --- |