Explore cookbooks and more from libraries around the world.
Search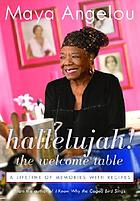 Hallelujah! the welcome table
Date: 2004 - 2009
Book
summary

Throughout Maya Angelou's life, from her childhood in Stamps, Arkansas, to her world travels as a bestselling writer, good food has played a central role. Preparing and enjoying homemade meals provides a sense of purpose and calm, accomplishment and connection. Now, she shares memories pithy and poignant, and the recipes that helped to make them indelible and irreplaceable--like the time she made a hearty brunch for a homesick Southerner, a meal that earned her both a job offer and a prophetic compliment: "If you can write half as good as you can cook, you are going to be famous." Maya Angelou is renowned in her wide and generous circle of friends as a marvelous chef. Her kitchen is a social center. From fried meat pies, chicken livers, and beet Wellington to caramel cake, bread pudding, and chocolate éclairs, the dozens of recipes included here are all tried and true, and come from Angelou's home and her heart. Hallelujah! The Welcome Table is a stunning combination of the two things she loves best: writing and cooking.--Adapted from dust jacket.
Genres, Characters, Subjects & More
Editions
| Cover | Edition Details | Date | Lang. | Format | Audience | eLibs | Libs |
| --- | --- | --- | --- | --- | --- | --- | --- |