Explore cookbooks and more from libraries around the world.
Search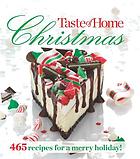 Taste of Home Christmas : [465 recipes for a merry holiday!]
Date: 2012 - 2016
Book
summary

Let Taste of Home help you plan your holiday parties and menus with this idea packed cookbook. There are wonderful appetizers and beverages, company worthy entrees, delectable breads, an array of sides and best of all dazzling, divine sweets, cookies, candies, cakes, pies and more. Included is classic fare, as well as updated twists on old-time favorite.
Genres, Characters, Subjects & More
Editions
| Cover | Edition Details | Date | Lang. | Format | Audience | eLibs | Libs |
| --- | --- | --- | --- | --- | --- | --- | --- |