Explore cookbooks and more from libraries around the world.
Search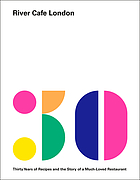 River Cafe London : thirty years of recipes and the story of a much-loved restaurant
Date: 2018
Book
summary

At the River Cafe in London, Ruth Rogers and her co-founder, Rose Gray, helped to shape the way we eat, trained a new generation of chefs, and, with their best-selling cookbooks, transformed the way we prepare Italian food at home. Now, with River Cafe London, Ruth and her restaurants head chefs, Joseph Trivelli and Sian Wyn Owen, invite you to join them in marking thirty years of memories and good food--the simple, high-quality Italian cooking that River Cafe has been providing since 1987. Here are 120 recipes for incomparable antipasti, primi, secondi, contorni, and dolciboth revised and updated favorites from Ruth and Roses first cookbook, as well as thirty new classics from their menus today: Ravioli with Ricotta, Raw Tomato, and Basil; Spaghetti with Lemon; Risotto Nero with Swiss Chard; Pork Braised with Vinegar; and, of course, their famous Chocolate Nemesis cake.
Genres, Characters, Subjects & More
Editions
| Cover | Edition Details | Date | Lang. | Format | Audience | eLibs | Libs |
| --- | --- | --- | --- | --- | --- | --- | --- |