Explore cookbooks and more from libraries around the world.
Search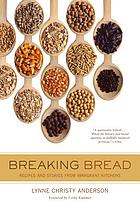 Breaking Bread : Recipes and Stories from Immigrant Kitchens
Date: 2010 - 2011
Book
summary

"Lynne Anderson's portraits of recent immigrant families capture a crucial truth about how real food connects us to our culture, our memories, and to one another. This is an important book." Alice Waters, Chez Panisse Restaurant"Everyone loves talking about food. In this remarkable book, Lynne Anderson lets recent immigrants to America speak in their own words about the foods they most loved from their homelands. Her cook-storytellers use recipes for cherished foods as a way to recall childhood memories, the events that caused them to emigrate, and their efforts to assimilatet.
Genres, Characters, Subjects & More
Editions
| Cover | Edition Details | Date | Lang. | Format | Audience | eLibs | Libs |
| --- | --- | --- | --- | --- | --- | --- | --- |