Explore cookbooks and more from libraries around the world.
Search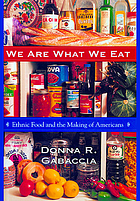 We are what we eat : ethnic food and the making of Americans
Date: 1998 - 2009
Book
summary

Ghulam Bombaywala sells bagels in Houston. Demetrios dishes up pizza in Connecticut. The Wangs serve tacos in L.A. How ethnicity has influenced American eating habits - and thus, the make-up and direction of the American cultural mainstream - is the story told in We Are What We Eat. It is a complex tale of ethnic mingling and borrowing, entrepreneurship and connoisseurship, of food as a social and political symbol and weapon - and a thoroughly entertaining history of our culinary tradition of multiculturalism.
Genres, Characters, Subjects & More
Editions
| Cover | Edition Details | Date | Lang. | Format | Audience | eLibs | Libs |
| --- | --- | --- | --- | --- | --- | --- | --- |