Explore cookbooks and more from libraries around the world.
Search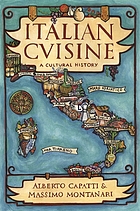 Italian cuisine : a cultural history
Date: 2003
Book
summary

This magnificent new book demonstrates the development of a distinctive, unified culinary tradition throughout the Italian peninsula. Thematically organized and beautifully illustrated, Italian Cuisine is a rich history of the ingredients, dishes, techniques, and social customs behind the Italian food we know and love today.
Genres, Characters, Subjects & More
Editions
| Cover | Edition Details | Date | Lang. | Format | Audience | eLibs | Libs |
| --- | --- | --- | --- | --- | --- | --- | --- |