Explore cookbooks and more from libraries around the world.
Search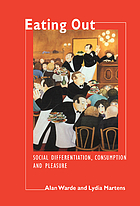 Eating out : social differentiation, consumption, and pleasure
Date: 2000 - 2009
Book
summary

Eating Out is a fascinating study of the consumption of food outside the home. Through recent in-depth research in English cities, the authors have collected a wealth of information into people's attitudes towards, and expectations of, eating out as a form of entertainment and an expression of taste and status.
Genres, Characters, Subjects & More
Editions
| Cover | Edition Details | Date | Lang. | Format | Audience | eLibs | Libs |
| --- | --- | --- | --- | --- | --- | --- | --- |