Explore fiction and movies from libraries around the world.
Search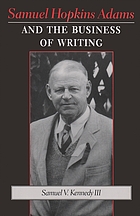 Samuel Hopkins Adams and the business of writing
Date: 1999
Book
summary

"Samuel V. Kennedy offers the first definitive work on the magazine muckraker who became a biographer, novelist, historian, and master storyteller - Samuel Hopkins Adams (1871-1958)." "This book traces the prolific and eclectic writing career of Adams who wrote more than fifty books and wrote the scripts for the films, It Happened One Night (1934) and the 1920's sensation, Flaming Youth. Kennedy offers insight into Adams's relationships with fellow writers, agents, magazine editors, book publishers, and reviewers, which he maintained throughout an illustrious career. Noted for his upstate New York novels and stories, Adams's ability to adapt to changing times while continuing to attack sham and hypocrisy mark his successful career."--BOOK JACKET.
Genres, Characters, Subjects & More
Editions
| Cover | Edition Details | Date | Lang. | Format | Audience | eLibs | Libs |
| --- | --- | --- | --- | --- | --- | --- | --- |