Explore fiction and movies from libraries around the world.
Search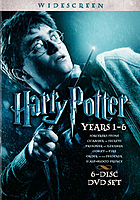 Harry Potter and the Half-Blood Prince
Date: 2005 - 2017
Video

MPAA rating: PG; for scary images, some violence, language and mild sensuality.
summary

Emboldened by the return of Lord Voldemort, the Death Eaters are wreaking havoc in both the Muggle and wizarding worlds. Hogwarts, once thought to be a safe haven, may no longer be safe. Harry suspects that new dangers may lie within the castle, but Dumbledore is more intent upon preparing him for the final battle that he knows is fast approaching. Harry will have to help him uncover a vital key to unlocking Voldemort's defenses, a critical piece of information known only to Horace Slughorn, Hogwarts' former Potions Professor. Dumbledore manipulates his old colleague into returning to his previous post with promises of more money, a bigger office and the chance to teach the famous Harry Potter.
Genres, Characters, Subjects & More
Editions
| Cover | Edition Details | Date | Lang. | Format | Audience | eLibs | Libs |
| --- | --- | --- | --- | --- | --- | --- | --- |