Explore fiction and movies from libraries around the world.
Search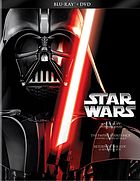 Star wars : Episode IV,. A new hope
Date: 1977 - 2020
Video

MPAA rating: PG ; for sci-fi violence and brief language.
summary

Princess Leia is captured and held hostage by the evil Imperial forces in their effort to take over the galactic Empire. Luke Skywalker, Han Solo, and two robots (R2-D2 and C-3PO) work together to rescue the princess and restore justice in the Empire. Includes never-before-released audio commentary from archival interviews with cast and crew.
Genres, Characters, Subjects & More
Editions
| Cover | Edition Details | Date | Lang. | Format | Audience | eLibs | Libs |
| --- | --- | --- | --- | --- | --- | --- | --- |