Explore fiction and movies from libraries around the world.
Search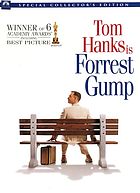 Forrest Gump
Date: 1993 - 2021
Video

MPAA rating: PG-13; for drug content, some sensuality and war violence.
summary

The story follows the life of low I.Q. Forrest Gump (Tom Hanks) and his meeting with the love of his life Jenny. The film chronicles his accidental experiences with some of the most important people and events in America from the late 1950's through the 1970's, including a meeting with Elvis Presley, JFK, Lyndon Johnson, Richard Nixon, fighting in Vietnam, etc. The problem is, he doesn't realize the significance of his actions. Forrest becomes representative of the baby boomer generation having walked through life blindly.
Genres, Characters, Subjects & More
Editions
| Cover | Edition Details | Date | Lang. | Format | Audience | eLibs | Libs |
| --- | --- | --- | --- | --- | --- | --- | --- |