Explore fiction and movies from libraries around the world.
Search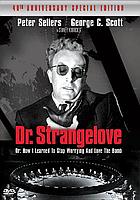 Dr. Strangelove, or, How I Learned To Stop Worrying And Love The Bomb
Date: 1961 - 2020
Video

MPAA rating: PG.
summary

A satire in which the U.S. president and his military advisors struggle ineptly to avert a holocaust after a psychotic Air Force general launches a nuclear attack on the Soviet Union because he fears that the Russians are poisoning the water supply in the United States.
Genres, Characters, Subjects & More
Editions
| Cover | Edition Details | Date | Lang. | Format | Audience | eLibs | Libs |
| --- | --- | --- | --- | --- | --- | --- | --- |