Explore fiction and movies from libraries around the world.
Search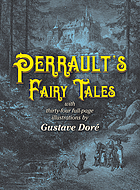 Complete fairy tales
Date: 1737 - 2015
Book
summary

Eleven fairy tales from Charles Perrault with their morals included and three additional tales, Beauty and the Beast from Mme. Leprince de Beaumont, and Princess Rosette and The Friendly Frog from Mme. d'Aulnoy.
Genres, Characters, Subjects & More
Editions
| Cover | Edition Details | Date | Lang. | Format | Audience | eLibs | Libs |
| --- | --- | --- | --- | --- | --- | --- | --- |