Explore fiction and movies from libraries around the world.
Search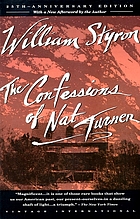 The confessions of Nat Turner
Date: 1957 - 2016
Book
summary

"The Confessions of Nat Turner reveals in unforgettable human terms the agonizing essence of Negro slavery. Through the mind of a slave, William Styron has re-created a catastrophic event, and dramatized the intermingled miseries, frustrations-and hopes-which caused this extraordinary black man to rise up out of the early mists of our history and strike down those who had held his people in bondage."
Genres, Characters, Subjects & More
Editions
| Cover | Edition Details | Date | Lang. | Format | Audience | eLibs | Libs |
| --- | --- | --- | --- | --- | --- | --- | --- |