Explore fiction and movies from libraries around the world.
Search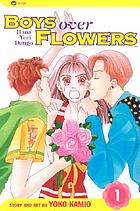 Boys over flowers : Hana yori dango : [vol.] 1 =
Date: 1992 - 2017
Book
summary

A girl from a middle class family goes to a private high school dominated by spoiled rich children. Despite constant bullying by many students, she wins the attention of the leader of one of the boys' groups. Eventually the students begin to learn that is more to a person than their wealth.
Genres, Characters, Subjects & More
Editions
| Cover | Edition Details | Date | Lang. | Format | Audience | eLibs | Libs |
| --- | --- | --- | --- | --- | --- | --- | --- |