Explore fiction and movies from libraries around the world.
Advanced Search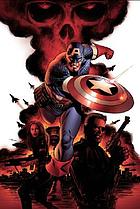 Captain America. winter soldier : ultimate collection
Date: 2005 - 2015
Book
summary

Since World War II, when everyone thought he died, Captain America's sidekick, Bucky Barnes, has unwittingly served the Soviets as their deadliest undercover agent, the Winter Soldier. Now, Captain America, on a mission to prevent General Lukin from using a Cosmic Cube to bend reality to his liking, discovers that his friend is still alive in the heat of battle.
Genres, Characters, Subjects & More
Editions
| Cover | Edition Details | Date | Lang. | Format | Audience | eLibs | Libs |
| --- | --- | --- | --- | --- | --- | --- | --- |