Explore fiction and movies from libraries around the world.
Advanced Search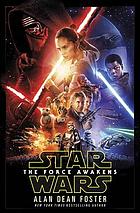 Star wars : the force awakens
Date: 2015 - 2018
Book
summary

Darth Vader may have been redeemed and the Emperor vanquished, but peace can be fleeting, and evil does not easily relent. Yet the simple belief in good can still empower ordinary individuals to rise and meet the greatest challenges. So return to that galaxy far, far away, and prepare yourself for what happens when the Force awakens ...
Genres, Characters, Subjects & More
Editions
| Cover | Edition Details | Date | Lang. | Format | Audience | eLibs | Libs |
| --- | --- | --- | --- | --- | --- | --- | --- |