Explore fiction and movies from libraries around the world.
Advanced Search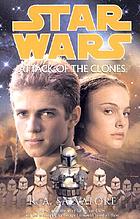 Star Wars episode II. Attack of the clones
Date: 1999 - 2015
Book
summary

The book introduces Anakin's mother, her husband, and her stepson, Owen, who will raise the future Luke Skywalker, and describes her capture and the failed attempt to rescue her. If that doesn't appeal, there is always the chapter describing Amidala's family on Naboo, whom viewer never even meet in the film. Perhaps more enticing, the book treats readers to the actual scene of Anakin's vengeful destruction of the Tusken Raider encampment, an action so pivotal to his future course in the Dark Side.
Genres, Characters, Subjects & More
Editions
| Cover | Edition Details | Date | Lang. | Format | Audience | eLibs | Libs |
| --- | --- | --- | --- | --- | --- | --- | --- |