Explore fiction and movies from libraries around the world.
Search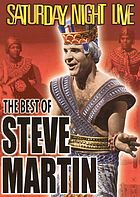 Saturday night live : the best of Steve Martin
Date: 1976 - 2007
Video

Rating: Not rated.
summary

Steve Martin performs some of his best known skits from Saturday Night Live, including The Festrunk brothers, Theodoric of York, medieval barbar and King Tut.
Genres, Characters, Subjects & More
Editions
| Cover | Edition Details | Date | Lang. | Format | Audience | eLibs | Libs |
| --- | --- | --- | --- | --- | --- | --- | --- |