Explore fiction and movies from libraries around the world.
Search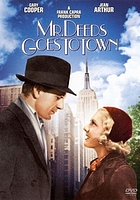 Mr. Deeds goes to town
Date: 1936 - 2017
Video

Not rated.
summary

Longfellow Deeds (Cooper), a small-town poet, inherits $20 million from his uncle and wants to give it away to needy people. Petty moochers, greedy relatives, conniving lawyers and big executives, who all want a piece of the pie, attempt to have Deeds declared incompetent.
Genres, Characters, Subjects & More
Editions
| Cover | Edition Details | Date | Lang. | Format | Audience | eLibs | Libs |
| --- | --- | --- | --- | --- | --- | --- | --- |