Explore fiction and movies from libraries around the world.
Search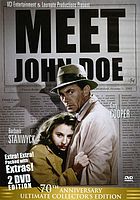 Frank Capra's Meet John Doe
Date: 1941 - 2008
Video

Not rated by MPAA.
summary

Fired from her job, reporter Ann Mitchell invents a fictitious "John Doe" to write an idealistic letter threatening suicide in protest of social ills. The public response to the letter is so enormous that Ann's newspaper rehires her and hires an out-of-work baseball player, John Willoughby to play the part of John Doe. He enters into the hoax for the money but ultimately rebels against the evil, self-serving despots who attempt to further their own political goals by controlling him and the thousands of John Doe fans who support him.
Genres, Characters, Subjects & More
Editions
| Cover | Edition Details | Date | Lang. | Format | Audience | eLibs | Libs |
| --- | --- | --- | --- | --- | --- | --- | --- |