Explore fiction and movies from libraries around the world.
Search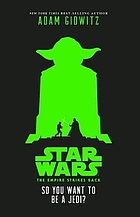 So you want to be a Jedi? : an original retelling of Star wars: the Empire strikes back
Date: 2015 - 2016
Book
summary

Reimagines the second Star Wars film in which Luke Skywalker trains with Yoda to become a Jedi after a rebel defeat on the ice planet Hoth and battles Darth Vader, who reveals a startling secret to Luke during their duel. You are Luke Skywalker, taking your first steps toward becoming the greatest Jedi in the galaxy. But the way will not be easy, and the power of the dark side is strong ...
Genres, Characters, Subjects & More
Editions
| Cover | Edition Details | Date | Lang. | Format | Audience | eLibs | Libs |
| --- | --- | --- | --- | --- | --- | --- | --- |