Explore fiction and movies from libraries around the world.
Search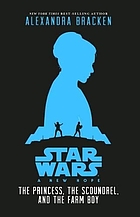 The princess, the scoundrel, and the farm boy : an original retelling of Star Wars: a new hope
Date: 2015 - 2017
Book
summary

Presents an illustrated retelling of the first Star Wars film in which the galaxy's fate lies in the hands of Princess Leia, Han Solo, and Luke Skywalker. The galaxy is at war. Although the Rebel Alliance has won a few battles against the Empire, hope is fading. The Empire is about to unveil the greatest weapon the galaxy has ever seen--the Death Star. The Rebels' only chance to defeat it now lies in the unlikely hands of a princess, a scoundrel, and a farm boy.
Genres, Characters, Subjects & More
Editions
| Cover | Edition Details | Date | Lang. | Format | Audience | eLibs | Libs |
| --- | --- | --- | --- | --- | --- | --- | --- |