Explore fiction and movies from libraries around the world.
Search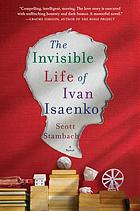 The invisible life of Ivan Isaenko
Date: 2016 - 2017
Book
summary

"The Invisible Life of Ivan Isaenko is comic and staggeringly tragic, often both in a single sentence ... A grittier, Eastern European, more grown-up The Fault in Our Stars."--Eowyn Ivey, author of The Snow Child. Seventeen-year-old Ivan Isaenko is a life-long resident of the Mazyr Hospital for Gravely Ill Children in Belarus. Born deformed, yet mentally keen with a frighteningly sharp wit, strong intellect, and a voracious appetite for books, Ivan is forced to interact with the world through the vivid prism of his mind. For the most part, every day is exactly the same for Ivan, which is why he turns everything into a game, manipulating people and events around him for his own amusement. That is until a new resident named Polina arrives at the hospital. At first, Ivan resents Polina. She steals his books. She challenges his routine. The nurses like her. She is exquisite. But soon, he cannot help being drawn to her and the two forge a romance that is tenuous and beautiful and everything they never dared dream of. Before, he survived by being utterly detached from things and people. Now, Ivan wants something more: Ivan wants Polina to live. "Ivan Isaenko is a beautiful, heartbreaking, and hilarious novel whose closest literary relative might be One Flew Over the Cuckoo's Nest ... will appeal to any reader with a beating heart - a true gem." --Nickolas Butler, author of Shotgun Lovesongs "-- Provided by publisher.
Genres, Characters, Subjects & More
Editions
| Cover | Edition Details | Date | Lang. | Format | Audience | eLibs | Libs |
| --- | --- | --- | --- | --- | --- | --- | --- |