Explore fiction and movies from libraries around the world.
Search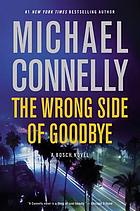 The wrong side of goodbye : a novel
Date: 2016 - 2017
Book
summary

Harry Bosch is California's newest private investigator. He doesn't advertise, he doesn't have an office, and he's picky about who he works for, but it doesn't matter. His chops from 30 years with the LAPD speak for themselves. Soon one of Southern California's biggest moguls comes calling. The reclusive billionaire has less than six months to live and a lifetime of regrets. He hires Bosch to find out whether he has an heir. Using all of his cold case skills, Bosch pieces together a 65-year-old mystery and finds out that the case is not as simple--or cold--as he thought.
Genres, Characters, Subjects & More
Editions
| Cover | Edition Details | Date | Lang. | Format | Audience | eLibs | Libs |
| --- | --- | --- | --- | --- | --- | --- | --- |