Explore cookbooks and more from libraries around the world.
Search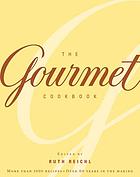 The gourmet cookbook : more than 1000 recipes
Date: 2004
Book
summary

For beginners and seasoned cooks alike, The Gourmet Cookbook is an eloquent, essential companion in the kitchen - one that will take its place among the classic cookbooks of our generation. Under the discerning eye of the celebrated authority Ruth Reichl, the editors of America's premier cooking magazine sifted through more than 60,000 recipes published over the past six decades.
Genres, Characters, Subjects & More
Editions
| Cover | Edition Details | Date | Lang. | Format | Audience | eLibs | Libs |
| --- | --- | --- | --- | --- | --- | --- | --- |