Explore cookbooks and more from libraries around the world.
Search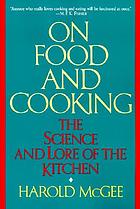 On food and cooking : the science and lore of the kitchen
Date: 1984 - 2007
Book
summary

Harold McGee's On Food and Cooking is a kitchen classic. Hailed by Time magazine as "a minor masterpiece" when it first appeared in 1984, On Food and Cooking is the bible to which food lovers and professional chefs worldwide turn for an understanding of where our foods come from, what exactly they're made of, and how cooking transforms them into something new and delicious. On Food and Cooking pioneered the translation of technical food science into cook-friendly kitchen science and helped give birth to the inventive culinary movement known as "molecular gastronomy." Though other books have now been written about kitchen science, On Food and Cooking remains unmatched in the accuracy, clarity, and thoroughness of its explanations, and the intriguing way in which it blends science with the historical evolution of foods and cooking techniques. On Food and Cooking is an invaluable and monumental compendium of basic information about ingredients, cooking methods, and the pleasures of eating. It will delight and fascinate anyone who has ever cooked, savored, or wondered about food.
Genres, Characters, Subjects & More
Editions
| Cover | Edition Details | Date | Lang. | Format | Audience | eLibs | Libs |
| --- | --- | --- | --- | --- | --- | --- | --- |