Explore cookbooks and more from libraries around the world.
Search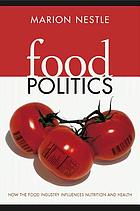 Food politics : how the food industry influences nutrition and health
Date: 2002 - 2013
Book
summary

[In this book, the author] examines what she sees as the industry's manipulation of America's eating habits while enumerating many conflicts of interest among nutritional authorities. Combining the scientific background of a researcher and the skills of a teacher, she has made a complex subject easy to understand.-Back cover.
Genres, Characters, Subjects & More
Editions
| Cover | Edition Details | Date | Lang. | Format | Audience | eLibs | Libs |
| --- | --- | --- | --- | --- | --- | --- | --- |