Explore cookbooks and more from libraries around the world.
Search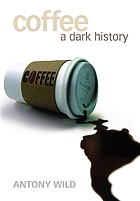 Coffee : a dark history
Date: 2004 - 2012
Book
summary

"From obscure beginnings in east Africa in the fifteenth century as a stimulant in religious devotion, coffee became an imperial commodity, produced by poor tropical countries and consumed by rich temperate ones. Through the centuries, the influence of coffee on the rise of capitalism and its institutions has been enormous. Revolutions were once hatched in coffeehouses, commercial alliances were forged, secret societies were formed, and politics and art were endlessly debated. Today, while coffee chains spread like wildfire, coffee-producing countries are in crisis: with prices at a historic low, they are plagued by unprecedented unemployment, abandoned farms, enforced migration, and massive social disruption."--Jacket.
Genres, Characters, Subjects & More
Editions
| Cover | Edition Details | Date | Lang. | Format | Audience | eLibs | Libs |
| --- | --- | --- | --- | --- | --- | --- | --- |