Explore cookbooks and more from libraries around the world.
Search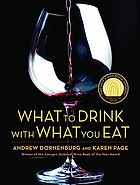 What to drink with what you eat : the definitive guide to pairing food with wine, beer, spirits, coffee, tea-- even water-- based on expert advice from Americas best Sommeliers
Date: 2006 - 2015
Book
summary

"At a great meal, what you drink is just as important as what you eat. This groundbreaking food and beverage pairing reference allows food lovers to learn to think like a sommelier, and to transform every meal--breakfast, lunch, and dinner--from ordinary to extraordinary"--Page 2 of cover.
Genres, Characters, Subjects & More
Editions
| Cover | Edition Details | Date | Lang. | Format | Audience | eLibs | Libs |
| --- | --- | --- | --- | --- | --- | --- | --- |