Explore cookbooks and more from libraries around the world.
Search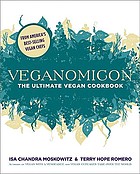 Veganomicon : the ultimate vegan cookbook
Date: 2007 - 2017
Book
summary

Its easy to live vegan 24/7 with this collection of 250 recipes, menus, and color photos for dishes that taste even better than their non-vegan counterparts. The cookbook offers innovative recipes for all occasions, convenience, easy-to-find ingredients, and gluten-free and tofu-free options.
Genres, Characters, Subjects & More
Editions
| Cover | Edition Details | Date | Lang. | Format | Audience | eLibs | Libs |
| --- | --- | --- | --- | --- | --- | --- | --- |