Explore cookbooks and more from libraries around the world.
Search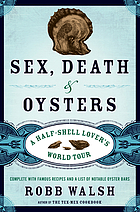 Sex, death & oysters : a half-shell lover's world tour
Date: 2008 - 2010
Book
summary

When award-winning Texas food writer Robb Walsh discovers that the local Galveston Bay oysters are being passed off as Blue Points and Chincoteagues in other parts of the country, he decides to look into the matter. Thus begins a five-year journey of discovery into the culture of one of the world?s oldest delicacy, and adventure that takes him from oyster reefs to oyster bars and from corporate boardrooms to hotel bedrooms in a quest for the truth about the world?s most profitable aphrodisiac. On the Atlantic, Pacific, and Gulf coasts of the United States, as well as the Canadian Maritimes, Ireland, England, and France, the author ingests thousands of oysters?raw, roasted, barbecued, and baked. He also carefully considers the merits of a wide variety of accompanying libations, including tart white wines in Paris, Guinness in Galway, martinis in London, and tequila in Texas. Sex, Death and Oysters is a record of a gastronomic expedition?a fascinating collection of the most exciting, instructive, and just plain weird experiences on a journey into the world of the most beloved and feared of all seafoods.
Genres, Characters, Subjects & More
Editions
| Cover | Edition Details | Date | Lang. | Format | Audience | eLibs | Libs |
| --- | --- | --- | --- | --- | --- | --- | --- |