Explore cookbooks and more from libraries around the world.
Search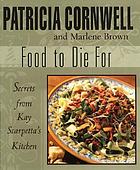 Food to die for : secrets from Kay Scarpetta's kitchen
Date: 2001 - 2003
Book
summary

Collects recipes inspired by scenes from mystery novels involving Kay Scarpetta, including grilled marinated rib-eye steaks from Postmortem, pollo al limone from Potter's Field, and peanut butter-chocolate pie from The Last Precinct. New York Times bestselling crime writer Patricia Cornwell reveals another side of Scarpetta in a cookbook that celebrates Kay's passion for great food & cooking for friends. America's #1 bestselling crime writer reveals another side of Scarpetta in a cookbook that celebrates Kay's passion for great food and cooking for friends. Scarpetta doesn't just chitchat with Benton Wesley before their Hilton Head holiday in Point of Origin, she instructs him to stock up on South Carolina pecans, tomatoes, and Vidalia onions! Snowbound in a tiny cottage by the sea in Cause of Death, Kay taps into her Italian heritage to celebrate New Year's with a delectable lasagna for Lucy and Marino. Fans of Kay Scarpetta know that this crime solver extraordinaire unwinds and recharges in the kitchen. After a heroic day on the job, she often escapes home to delicious food and wine with family and friends. Inspired by the dozens of food scenes in Kay's kitchen and favorite restaurants, Food to Die For is a cookbook tailor-made for Scarpetta fans. Among the criminally good recipes: Miami-Style Chili with Beer (All That Remains) Grilled Grouper with Butter and Key Lime Juice (Cruel & Unusual) Jack Daniel's Chocolate-Pecan Pie (The Body Farm) Lasagna with Marinara Sauce and Porcini Mushrooms (Cause of Death) Bev's Lump Crab Cakes (Unnatural Exposure) Kay's Grilled Pizza with Sausage, Pepperoni, and Three Cheeses (Black Notice) Also recipes from Lucy, Marino, and Rose, as well as from restaurants in Richmond, Washington, D.C., New York, London, and Paris. Brimming with full-color photographs of Scarpetta-inspired culinary creations, Food to Die For adds a new dimension to the novels that keep us reading through the night.
Genres, Characters, Subjects & More
Editions
| Cover | Edition Details | Date | Lang. | Format | Audience | eLibs | Libs |
| --- | --- | --- | --- | --- | --- | --- | --- |