Explore cookbooks and more from libraries around the world.
Search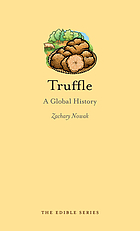 Truffle : a global history
Date: 2015
Book
summary

What is a truffle? Is it the über-shroom, the highest order of fungal foods? Does it arrive, as some cultures feel, in the moment of a thunderclap? One thing is for sure: despite its unappetizing appearance, the truffle is without a doubt one of the most prized ingredients in the world's pantry. In this book, Zachary Nowak digs deep into the history and fame of this unlikeliest of luxury items, exploring the truffle's intoxicating hold on our senses how its distinctive flavor has become an instant indication of haute cuisine. Nowak traces the truffle's journey from the kitchens of East Asia, Europe and the Americas.
Genres, Characters, Subjects & More
Editions
| Cover | Edition Details | Date | Lang. | Format | Audience | eLibs | Libs |
| --- | --- | --- | --- | --- | --- | --- | --- |