Explore cookbooks and more from libraries around the world.
Search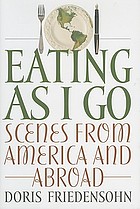 Eating as I go : scenes from America and abroad
Date: 2006
Book
summary

What do we learn from eating? About ourselves? Others? In this unique memoir, Doris Friedensohn takes eating as an occasion for inquiry. Munching on quesadillas and kimchi in her suburban New Jersey neighborhood, she reflects on the meanings of cultural inclusion and what it means to our diverse nation. Enjoying couscous in Tunisia and khatchapuri (cheese bread) in the Republic of Georgia, she explores the ways strangers maintain their differences and come together. Friedensohn's subjects range from Thanksgiving at a Middle Eastern restaurant to fried grasshoppers in Oaxaca. Her wry dramas of.
Genres, Characters, Subjects & More
Editions
| Cover | Edition Details | Date | Lang. | Format | Audience | eLibs | Libs |
| --- | --- | --- | --- | --- | --- | --- | --- |