Explore cookbooks and more from libraries around the world.
Search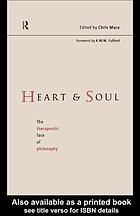 Heart and soul : the therapeutic face of philosophy
Date: 1999 - 2007
Book
summary

Heart and Soul is a collection of essays which examine those concepts and questions which are at the heart of both psychotherapy and philosophy. A wide range of philosophical approaches are drawn upon.
Genres, Characters, Subjects & More
Editions
| Cover | Edition Details | Date | Lang. | Format | Audience | eLibs | Libs |
| --- | --- | --- | --- | --- | --- | --- | --- |