Explore cookbooks and more from libraries around the world.
Search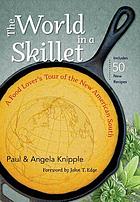 The world in a skillet : a food lover's tour of the new American South
Date: 2011 - 2014
Book
summary

Paul and Angela Knipple's culinary tour of the contemporary American South celebrates the flourishing of global food traditions "down home." Drawing on their firsthand interviews and reportage from Richmond to Mobile and enriched by a cornucopia of photographs and original recipes, the Knipples present engaging, poignant profiles of a host of first-generation immigrants from all over the world who are cooking their way through life as professional chefs, food entrepreneurs and restaurateurs, and home cooks. Beginning the tour with an appreciation of the South's foundational food traditions--in.
Genres, Characters, Subjects & More
Editions
| Cover | Edition Details | Date | Lang. | Format | Audience | eLibs | Libs |
| --- | --- | --- | --- | --- | --- | --- | --- |