Explore cookbooks and more from libraries around the world.
Search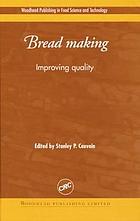 Bread making : improving quality
Date: 2003 - 2016
Book
summary

Annotation‡bEdited by one of the world's leading authorities in the field, and with a distinguished international team of contributors, Bread making reviews key recent research on the ingredients determining bread quality. Part 1 discusses the definition, measurement and improvement of wheat properties, which enhance bread quality. The second part of the book reviews recent research on the properties of flour and dough, which influence bread texture, colour and flavour. The final part of the book looks at the contribution of other ingredients. CONTENTS Bread making: an overview. Part 1 Wheat and flour quality: The chemistry and biochemistry of wheat; Assessing grain quality; Techniques for analysing wheat proteins; Wheat proteins and bread quality; Starch structure and bread quality; Improving wheat quality: the role of biotechnology; Analysing wheat and flour; Milling and flour quality; Modifying flour to improve functionality; The nutritional enhancement of wheat flour. Part 2 Dough and bread quality: The molecular basis of dough rheology; Molecular mobility in dough and bread quality; The role of water in dough formation and bread quality; Foam formation in dough and bread quality; Bread aeration; Measuring the rheological properties of dough; Controlling dough development; The use of redox agents; Water control in baking; Improving the taste of bread; High- fibre baking; Mould prevention in bread; Detecting mycotoxin contamination of cereals; Improving wheat quality; Preventing bread staling.
Genres, Characters, Subjects & More
Editions
| Cover | Edition Details | Date | Lang. | Format | Audience | eLibs | Libs |
| --- | --- | --- | --- | --- | --- | --- | --- |